The Renowned Bombay Chicken Biryani
The Bombay Chicken Biryani has a very delicious and irresistible tempting aroma and look. It is of yellowish-orange color because of the addition of food color to give it a very pleasant look. On a regular basis, people consumed it at lunch and it is available on every wedding festive. It takes a little more time to make but It is worth every bit of the effort. It is the true legacy of sub-continent cuisine and it carries a classic spicy taste with meat chunks. The biryani was brought by Mughal\\\'s in the sub-continent region and the entire Mughal emperor was fond of having this as a lavish dish on the table.
The loving recipe is expected to make Yummilicious preparation. If you find any part if not clear, you want more information, please feel free to add as comments, and our chefs will review for everyone's benefit. Feel free to try/share the recipe and post the photo of your creation.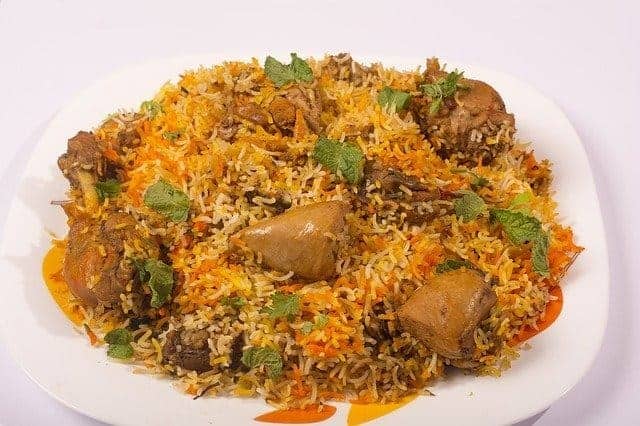 1
Chicken Biryani Spice Blend
FRY
1
Heat the oil in a stewpot, fry onions till color changed from pink to light
brown.
Cook
2
Add chicken and stir it in the oil. Let it cooks on medium flame until the meat is tender. For chicken, water is not required.
3
Add garlic and ginger paste along with turmeric powder, and stir for some seconds in chicken
4
Grind tomatoes, green chilies, and yogurt together and then put the all paste in chicken. Let it cook for 5-10 mints then add Chicken Biryani Spicy Blend mix in it cook for 2 mints and turn the flame off.
Boil
5
Take a separate pot to add up to 11 glasses of water to let it boil. Add 1tsp oil and salt in it and add rice to boil
6
Turn off the flame after the rice is ¾ done.
Layering and Simmer
7
Make a layer of half the rice, put the layer of chicken and cover with the second layer of rice.
8
You can do layering in the same pot which you used for boiling the rice.
(Add zarda color, sliced lemon, kewra in between the rice as per needed)
9
In the final step Simmer the rice on a medium flame for more than 15 minutes.
Serving
10
The delicious biryani is ready you must serve it hot!
11
The delicious biryani is ready you must serve it hot!
Nutrition Facts
Serving Size 1 bowl
Servings 2