The Jalebi is of yellowish-orange color which is a very famous Indian dessert. It is made up of all-purpose flour and sugar. It is usually served with tea, and after major meals as a dessert. It\'s a very sugary and calorie-dense dessert that is divine in taste. It is liked by all age groups and mostly consumed on the occasions of celebrations. It is also a popular street-side snack in India and Pakistan..
The loving recipe is expected to make Yummilicious preparation. If you find any part if not clear, you want more information, please feel free to add as comments, and our chefs will review for everyone's benefit. Feel free to try/share the recipe and post the photo of your creation.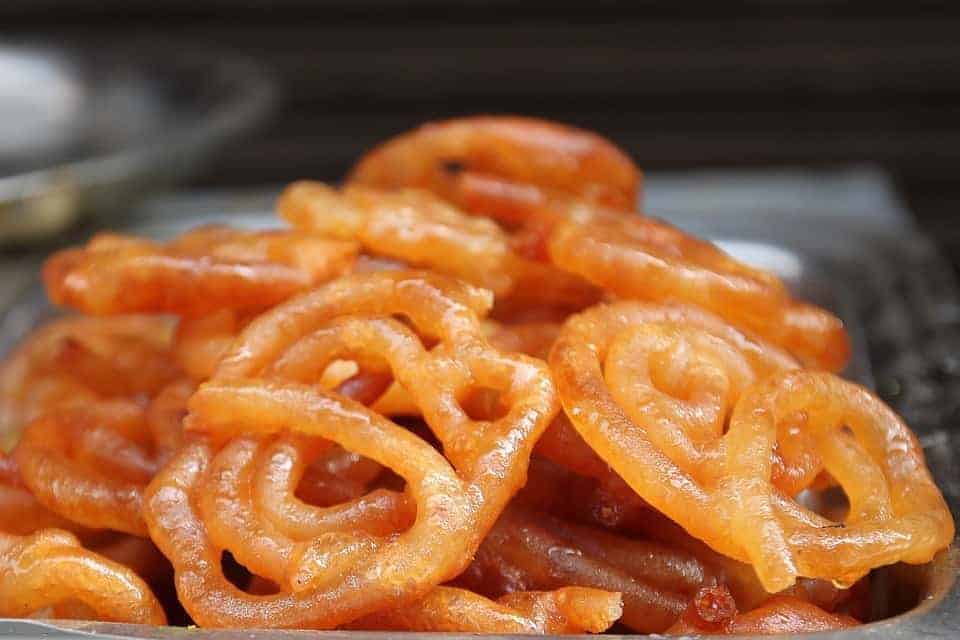 Main Jalebi Ingredients
Ingredients for Sugar Syrup
Sugar Syrup Making
1
The first step is to make a sugar syrup. Add 3.5 cups of water in an open wide saucepan than add 1 ½ cup of granulated or powder sugar.
2
Add cardamom powder in it. Bring it to boil on high to medium flame and stir unless sugar dissolves completely.
3
Let it cook for another 2 minutes. You have to cook till you get a sticky thick runny consistency. (It should not be so thick, but runny as well). Your syrup is ready now keep it aside and warm it a little bit again when you are about to put Jalebi in it.
Batter Making
4
Take a bowl and add 2 cups of all-purpose flour. Now add 1 tsp baking powder, 2 tablespoons of yogurt, 3 tablespoons of oil, a 1/2 tsp of orange color and mix all ingredients by slowly adding 1 cup of water
5
Mix everything all together with the help of a hand whisker until the texture gets uniform and runny
Jalebi Making
6
Take a deep pan and add oil in it and let it heat on the medium flame for frying jalebis. Now fill the jalebi batter in a piping bag or muslin cloth to make Jalebis. If you are using muslin cloth pierce a hole in it like a piping bag.
7
Now tightly hold the piping bag and start squeezing it in the frying pan and make concentric circles. You must move the piping bag filled with batter in the inside out direction to give a perfect irregular shape to jalebis. Move from inside to outside to make perfect circles. Let them fry until Jalebis turned out crispy and golden.
8
Now soak the crispy golden jalebis in sugar syrup for 1 minute. Ensure that the sugar syrup is warm and not very hot, because the warm syrup will easily get absorbed in the Jalebis and make it soften with a crispy crunch.
9
Now remove Jalebis from the syrup and place it on a tray.
Serving Suggestion
10
Decorate with silver foil or ground dry nuts and serve the jalebis hot with tea or warm milk.
Nutrition Facts
Serving Size 1 plate
Servings 3
Nutrition Facts
Serving Size 1 plate
Servings 3