Get Rolled With "Delicious Veggie Spring Roll"
Spring rolls are rolled appetizers or dim sum commonly found in Chinese and other Southeast Asian cuisines. The kind of wrapper, fillings, and cooking technique used, as well as the name, vary considerably within this large area, depending on the region\'s culture. They are filled with vegetables and other ingredients.
The loving recipe is expected to make Yummilicious preparation. If you find any part if not clear, you want more information, please feel free to add as comments, and our chefs will review for everyone's benefit. Feel free to try/share the recipe and post the photo of your creation.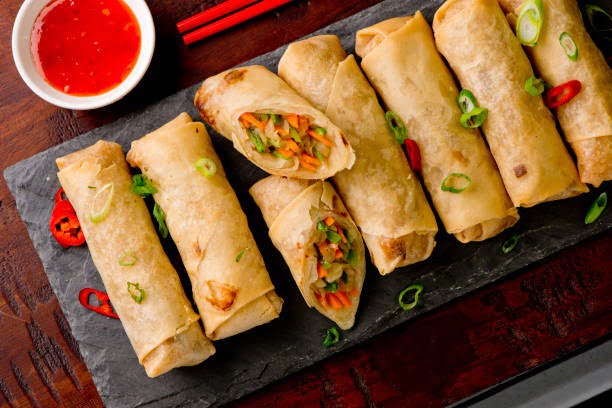 5
Spring roll pastrie sheets
For Stuffing
¼
tsp
Black pepper powder
For Sealing
For Frying
Preparation of Veg Stuffing
1
firstly, in a large wok, heat 2 tbsp oil. saute 3 clove garlic, 2 chilli and 2 tbsp spring onion
2
add ½ onion and stir fry on high flame
3
now add 1 carrot, 2 cup cabbage, 5 beans, ½ capsicum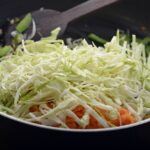 4
stir fry without losing the crunchiness of vegetables
5
further, add 1 tbsp vinegar, 1 tbsp soy sauce, 1 tsp chilli sauce, ¼ tsp pepper powder and ½ tsp salt.
6
mix well making sure everything is well combined. stuffing is ready.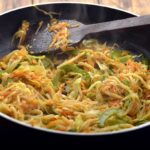 How to prepare flour paste
7
Add 2 tbsp flour in the bowl with little water in it. Mix it will to form it as paste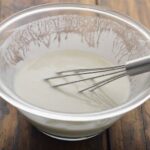 how to fold
8
firstly, take a wrapper sheet and place a tbsp of prepared veg stuffing at the corner of the wrap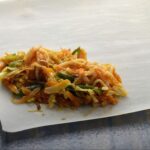 9
Roll over the wrap till 3/4th. fold over both the sides one by one toward the center ensuring no air bubbles are trapped inside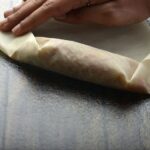 10
now seal the edges using flour paste mixture. And repeat the steps.
How to Fry
11
deep fry in hot oil, keeping the flame on low.
12
stir occasionally, until the roll turns golden brown and crisp
13
drain off removing excess oil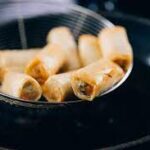 14
finally, enjoy veg spring roll with ketchup.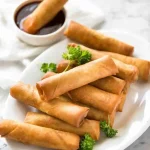 Nutrition Facts
Servings 1
Nutrition Facts
Servings 1