Aloo posto is a traditional Bengali recipe of potatoes in a lightly spiced poppy seeds paste.
The loving recipe is expected to make Yummilicious preparation. If you find any part if not clear, you want more information, please feel free to add as comments, and our chefs will review for everyone's benefit. Feel free to try/share the recipe and post the photo of your creation.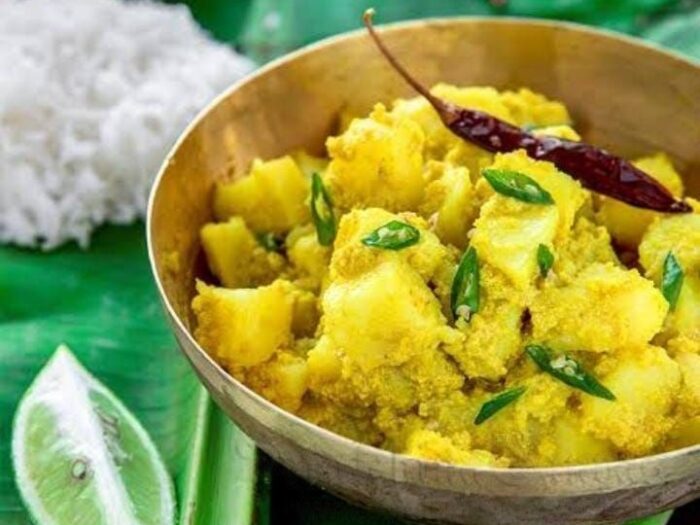 1
Soak your posto(poppy seeds) for 2 hours and keep it aside
2
Cut the potatoes into 1cm cubes
3
Add Soaked posto, 2 green chillies, 75g water in a pot
grind it to paste. Keep it slightly coarse for nice texture
4
Heat 60g mustard oil in a frying pan, until it smokes lightly and turns pale yellow
5
Add onions to the oil and fry them until they turn lightly coloured for about 1 min .
6
Add dried chilies to the pan of oil . Add kalo jeere and then the aloo to the pan.
Fry on medium heat for 5 mins.
Fry well but do not let them turn brown.
7
Add poppy seed paste and mix it well .
8
Add salt , sugar and fry on low heat until the raw posto smell goes away
9
When the pan dries out, add a splash of hot water and continue cooking . Cover and cook on low heat for 5 mins
10
Posto tends to stick so stir frequently. Keep cooking until potatoes are soft
11
Slit green chillies and mix it with your posto
Finish with 1 tsp mustard oil
Garnish your posto with fried onions which you had fried earlier.
12
Serve hot with rice and lemon
Nutrition Facts
Servings 1