Chicken Rezala is my favorite and a famous Bengali delicacy that has a Mughlai Origin. Quintessentially, it\'s a chicken that has white gravy, unlike other chicken curry dishes, and is extremely flavorful with very delicate flavors. So, here is how to make it.
The loving recipe is expected to make Yummilicious preparation. If you find any part if not clear, you want more information, please feel free to add as comments, and our chefs will review for everyone's benefit. Feel free to try/share the recipe and post the photo of your creation.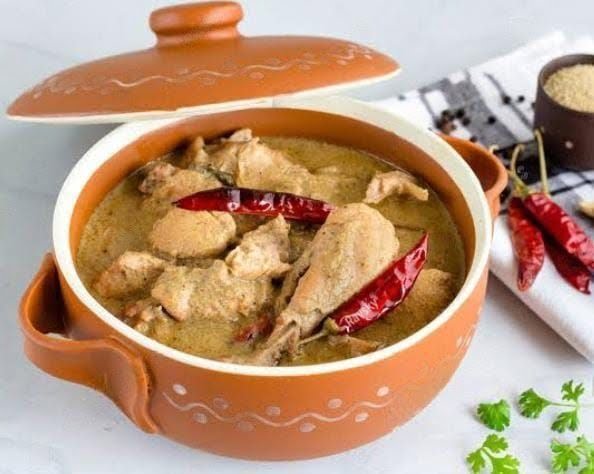 Cashew & Poppy Seed Paste
1
Soak the cashew nuts and 1 tsp of poppy seeds in warm water for 10 minutes.
After 10 mins, make a smooth paste in a blender.
Chicken Marination
2
Add 1 cup of beaten yogurt to your 1 kg of chicken in the bowl.
3
Mix 1/2 tsp of pepper powder, 1 tsp of ginger paste, garlic paste, onion paste respectively, and salt to your bowl of chicken.
Marinate and keep it for an hour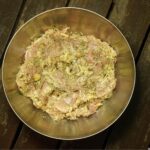 Gravy
4
Heat 1 tsp of ghee and 1 tsp of oil in a pan. Once the ghee melts and the pan are nice and hot add 2 bay leaves, 1-inch cinnamon, 3 big green cardamoms, 5 cloves, and about 10 pepper corns. Saute them till they leave their aroma.
5
Add 2 red chilies and onion paste of 3 medium-sized onions to the pan. Saute this for about 5-10 mins till the color of the onion changes.
6
After the onion changes its color add 2 tsp of garlic and ginger paste.
7
Slit 4 green chilies and add them to your pan
8
Add 1 tsp cumin seed powder, 1/2 tsp black pepper powder, and the cashew poppy seed paste that you had prepared at the beginning to the gravy.
Saute them well for a few seconds
9
Now add the marinated chicken to the gravy. Saute them for 3-5 mins.
10
Add 2 cups of water, 1/2 tsp of garam masala powder, salt, 1 tsp of sugar to the gravy and mix them well.
11
Cover your pan with a lid and cook on low heat for 40-50 minutes.
12
After your chicken gets cooked add few strands of saffron soaked in milk to it.
13
Add 1 tsp of kewra water for giving your chicken razela an amazing fragrance and mix well
14
Serve hot with Rice, Luchis or Rumali roti.
Nutrition Facts
Servings 1