This spicey green chutney is the most flavourful dressing made with fresh coriander, mint leaves, and green chillies. It has a very refreshing mouthwatering aroma and spicy flavor. This basic green chutney is used with all kinds of Indian snacks including Samosa, Jhal Muri, Chaats, Burgers, and Sandwiches. I always use this healthy fresh green chutney as a topping on my snacks instead of ketchup or mayonnaise. It is super easy to make at home. It has fewer calories and it aids indigestion.
The loving recipe is expected to make Yummilicious preparation. If you find any part if not clear, you want more information, please feel free to add as comments, and our chefs will review for everyone's benefit. Feel free to try/share the recipe and post the photo of your creation.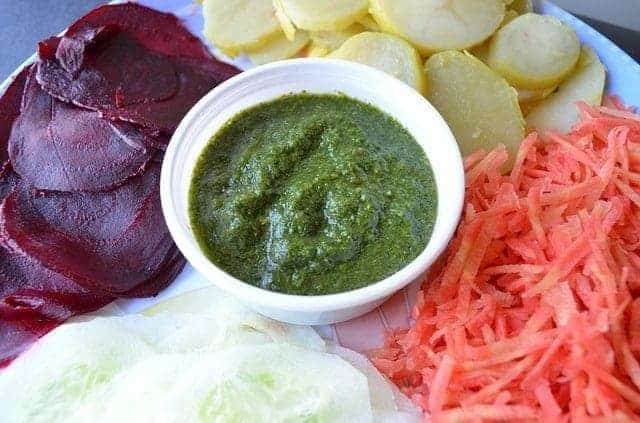 Washing and Plucking
1
The first is to wash the coriander and mint leaves thoroughly.
2
Now pluck the leaves from the stalk. You can keep tender stalks of coriander. Add some vinegar on the leaves and rest for 5 minutes then rinse it with tap water thoroughly. Drain them well in a basket.
Blending
3
Add all leaves with the above-mentioned ingredients in a blender and blend it by adding 1 tablespoon water until the mixture gets smooth and uniform. The paste should be a little thick and not very runny.
4
Add salt, black pepper, and lemon juice according to your taste. The Chutney is ready to use now.
Storing
5
Keep the Green Chutney in a dry air-tight jar. You can use it for up to a week.
Serving Suggestion
6
Always use a dry spoon to serve it. You can serve it with Chana Chat, Yellow Lentil Samosa, Meatballs
Nutrition Facts
Serving Size 1 bowl
Servings 6