Assorted Puffed Rice Jhal Muri
In Bengali ( Eastern province of India), "Jhal" means spicy and "Muri" means puffed rice. The puffed rice Jhal Muri is a Bengali snack. It is also a very known street food snack from Kolkata, India. It carries a spicy punchy taste followed by some tidbits of peanuts, onion, potato, green chillies, and some spicy herbs and spice mix. The addition of mustard oil in it is its speciality which gives this snack a whole new measure of aroma and flavour.
The loving recipe is expected to make Yummilicious preparation. If you find any part if not clear, you want more information, please feel free to add as comments, and our chefs will review for everyone's benefit. Feel free to try/share the recipe and post the photo of your creation.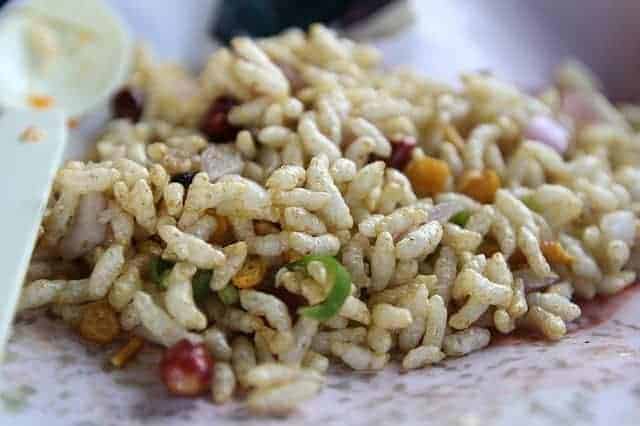 2.50
cups
Puffed Rice muri
Preparation for Jhal Muri
Roasting of Puffed Rice
1
The first step is to mix all the ingredients after chopping them which includes onion, tomato, boiled potato, cucumber, and green chilies.
2
Heat a deep frying pan and keep the flame to a low or medium. Add 2 cups of puffed rice in it.
3
Keep stirring with help of a spoon to roast the rice for 2 to 3 minutes or more till they become crisp and crunchy. Keep checking that puffed rice should be crunchy and not very soft or chewy. Switch off the flame and keep the pan aside.
4
NOTE: If your rice is already crispy and crunchy just roast for one minute only.
Roasting of Spices
5
Now heat a pan on a very low to medium flame and add all the above-mentioned ingredients in "Spice Mix For Jhal Muri" and roast it for 2 minutes and make them aromatic.
Mixing of All Ingredients
6
Mix all the puffed rice with the spice powders very gently.
7
Now add ¼ cup of roasted peanuts and add the finely chopped onions, tomatoes, potatoes, green chilies. Furthermore, drizzle 1 teaspoon mustard oil all over and add sev.
8
Add lemon juice on top and some coriander chopped leaves. Eat right away and check the taste, you can add more spices if you like. I always love it with more lemon.
9
You can serve crunchy spicy puffed rice Jhal Muri with lemonade or tea.
Nutrition Facts
Serving Size 1 bowl
Servings 4